Aluminium Clad Building Livens up Skyline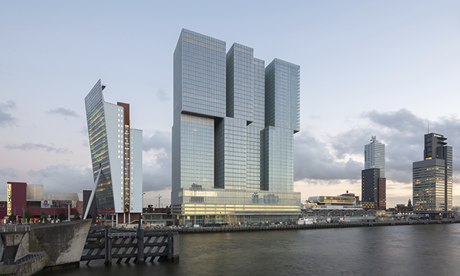 The largest building in The Netherlands resembles four office blocks that have been cut up, reshuffled and placed in the wrong order. Clad in a continuous layer of aluminium mullions, the building could be called the Twin Towers of Europe.
Housing 70, 000 sq m of office space, 240 apartments and a 285 room boutique hotel, the De Rotterdam looks like a skyline that has been placed on top of another skyline.
"The most importatnt thing about this project is your perception of its size and mass as you drive over the bridge," says architect Rem Koolhaas. "We calculated how the view would change as you approach."
The Rotterdam is the latest initiative part of the "Manhattan on the Maas" vision launched in the early 90s to transform the town of Wilhelminapier.
For further information on aluminium in buildings, please visit The Aluminium Story.
Source: The Guardian
back